Christmas Operating Kit Appeal
December 15, 2017 — Anyasi, Appeal, Aru, Baba, Droku, Olongba, Olongba Hospital Centre, Pascal, Ruth Lockley
Our Christmas Appeal this year is to equip up to 5 operating theatres in hospitals eastern Democratic Republic of Congo. Many of the 50 health centres and hospitals we support carry out emergency surgery, particularly caesarian sections to save the lives of mothers with complicated deliveries and their soon-to-be-born children.
The photo was taken earlier this year at Olongba health centre, which has a small operating theatre and many deliveries and sick children…. too many for this ward! We have supported Olongba for several years and the team of midwife Anyasi, Dr Kabhunga and the committee who have tirelessly kept the centre going through some very troubled times.  The village has suffered greatly during the war, with the people forced to flee on many occasions, and the centre was looted repeatedly. It looks as if the maternity ward needs more equipment as well (Anyasi, to left of photo):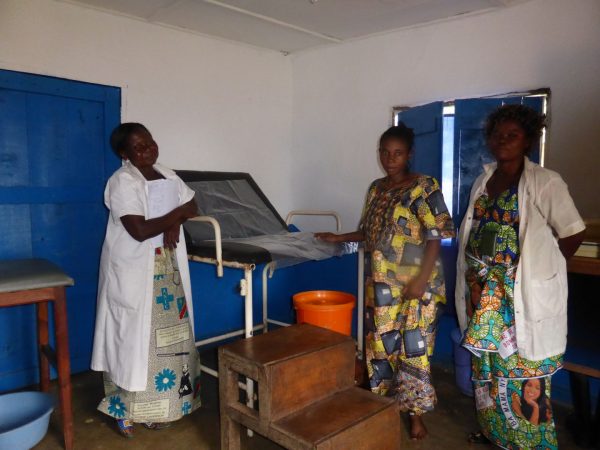 We have now changed our donation system for Semiliki. We now use Donation Manager to which you can donate on-line via Paypal by clicking on the below link. Donation Manager make no charge, and we are registered with Paypal as a charity, so there is a 1.4% plus 20p transaction fee instead of 3.4%.  Alternatively you can also give directly to our bank account, for which there is no charge at all. Our Administrator, Ruth Lockley, can send you the bank details: ruth.lockley@semiliki-trust.org.uk, and that way you can give a one-off gift or make a standing order for regular donations to support our 10 projects.  We will be updating the Support Page of the website shortly to reflect these changes.
Wishing you all joy this Christmas, from the Semiliki Team and our partners in Congo.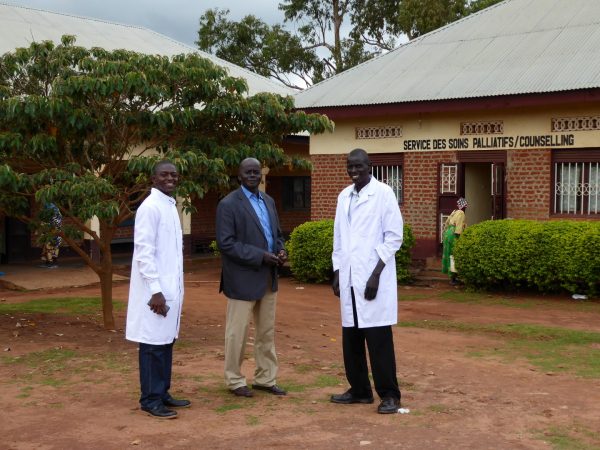 Dr Pascal, Administrator Baba and Nursing Director Droku outside Aru hospital, which has just opened a new operating theatre we are hoping to equip.