Story — Improving living conditions at the Compassion Orphanage
February 19, 2019 — Appeal, Butembo, CMS Ireland, Compassion Orphanage, Congo Church Association, Mbambu Kiharami Dorcas, St Andrew's Oxford, Story
Of the 60 children in the orphanage, seven infants are under one year old, many of whom have suffered with acute illnesses (hence the IV lines for antibiotics on their heads) and need intense feeding and support. Sadly, one baby aged 9 months died last year who had been looked after by Dorcas and team since she was two weeks old.
Work has started on the new house that we are building with our partners.  This is despite the violence that has continued around the town of Butembo and the Ebola epidemic that hasn't let up since August last year. Dorcas tells us that 6 victims of Ebola were buried in their neighbourhood at the beginning of February, and another 3 victims of Ebola were from a plot of land 100 metres from the orphanage.  As of 13th February, there have been 829 cases and 521 deaths from this epidemic. Even with the huge risks, the building team have been able to finish the foundations and have started on the walls.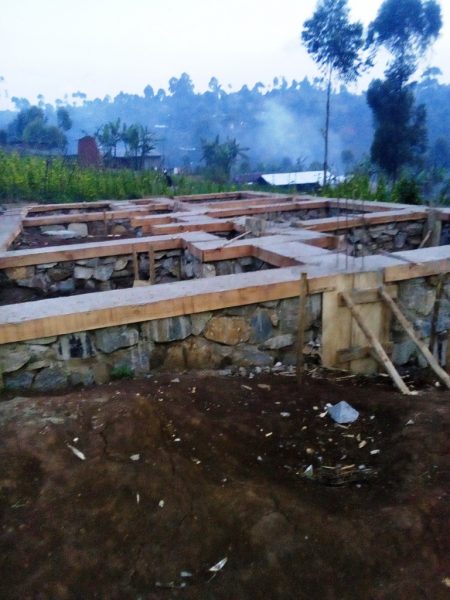 Meanwhile, our regular payments continue to buy food, pay medical bills, and help with transport and support for the team. Since the orphanage started, 30 children have been adopted by host families and seven have been united with other family members. Once the Ebola epidemic has finished we are planning to finance a specialist children's social worker to spend a couple of months to help the staff and also look at ways of finding more adoption possibilities with local families for more of the children and ways of supporting families that adopt.
Make a donation towards our target of £10,000 to build the next orphanage house or make a regular donation.