Story — Op kit arrives safely!
October 7, 2020 — Accounting, Appeal, Bukavu, Butembo, ECHO, Greyfriars Church, Masiki Health Centre, Medical Aid International, Moïse, Purchasing supplies, St Matthieu Hospital, Story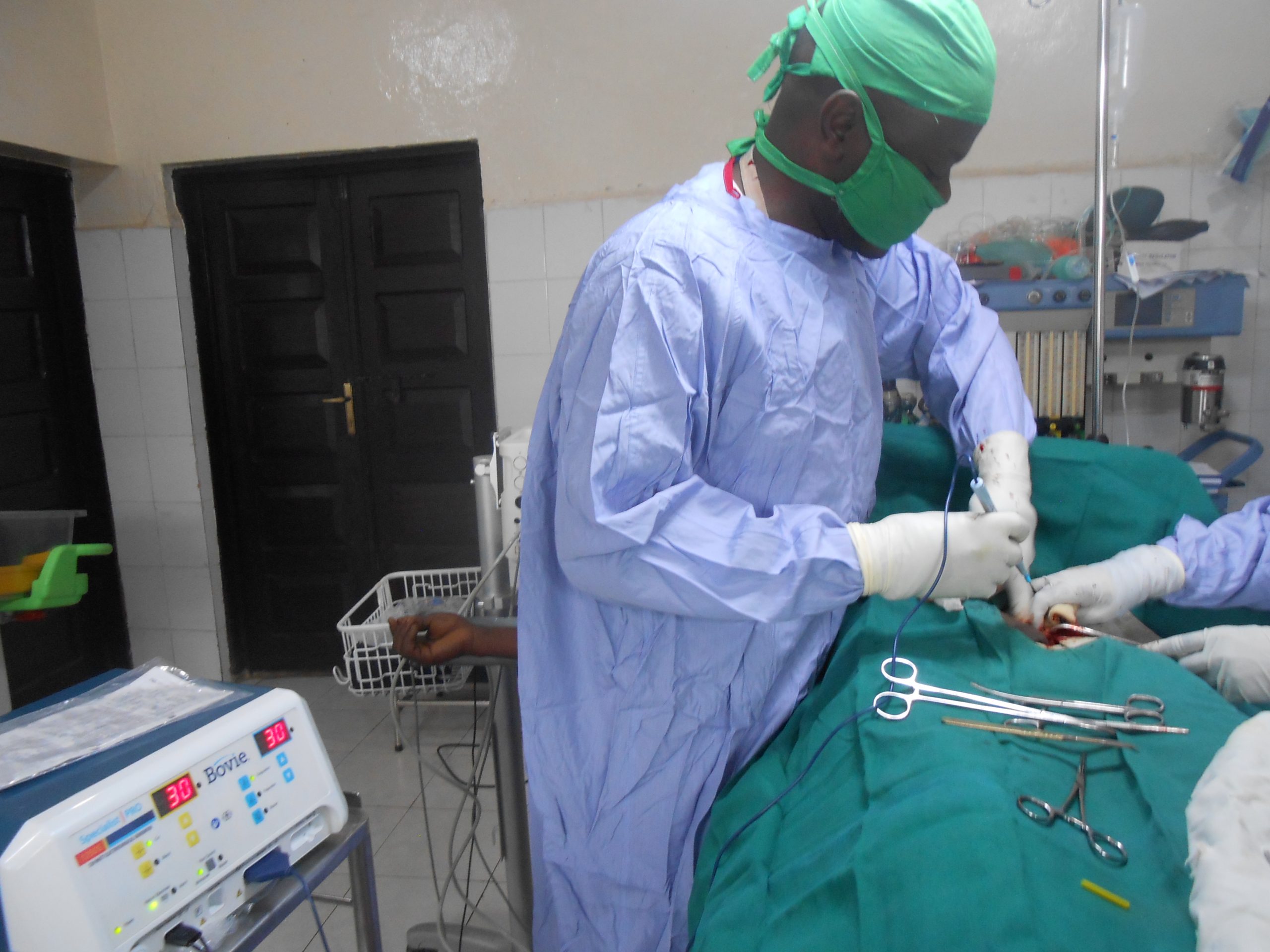 We are delighted to let you know that the operating kit for Masiki Hospital, Butembo, and St Matthieu, Bukavu both arrived safely and are being put to immediate good use. In the above photo, Moïse in Masiki hospital is using the new diathermy machine. Once again we ordered the kit from our favourite suppliers, Medical Aid International (Medaid) in Bedfordshire. Here are John Stoughton (Warehouse Manager) and Tim Beacon (CEO) sorting out our order.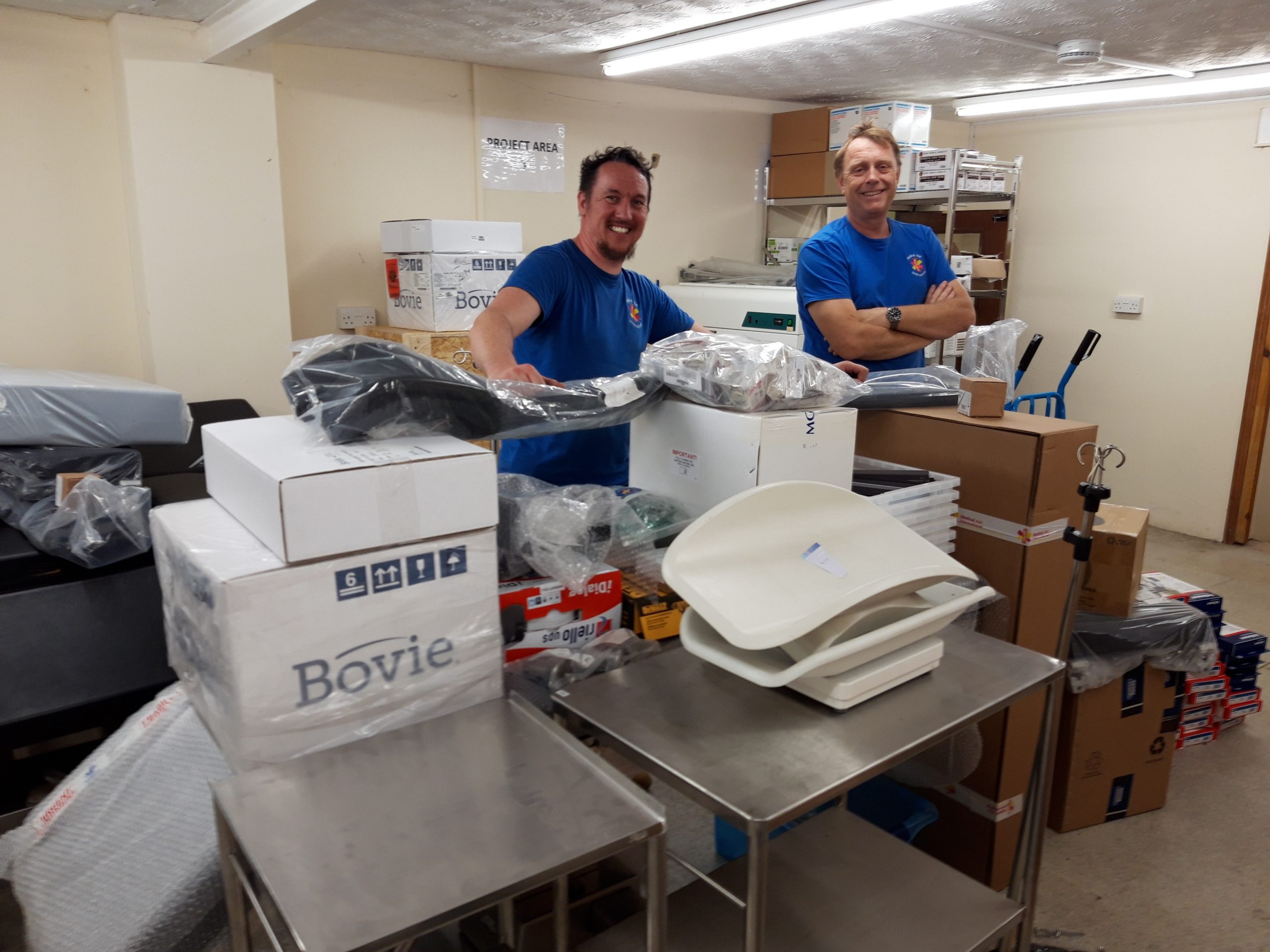 The kit was packed in large crates by Medaid and sent in separate loads via Entebbe airport, from where it was trucked to the two hospitals (which are 500km apart).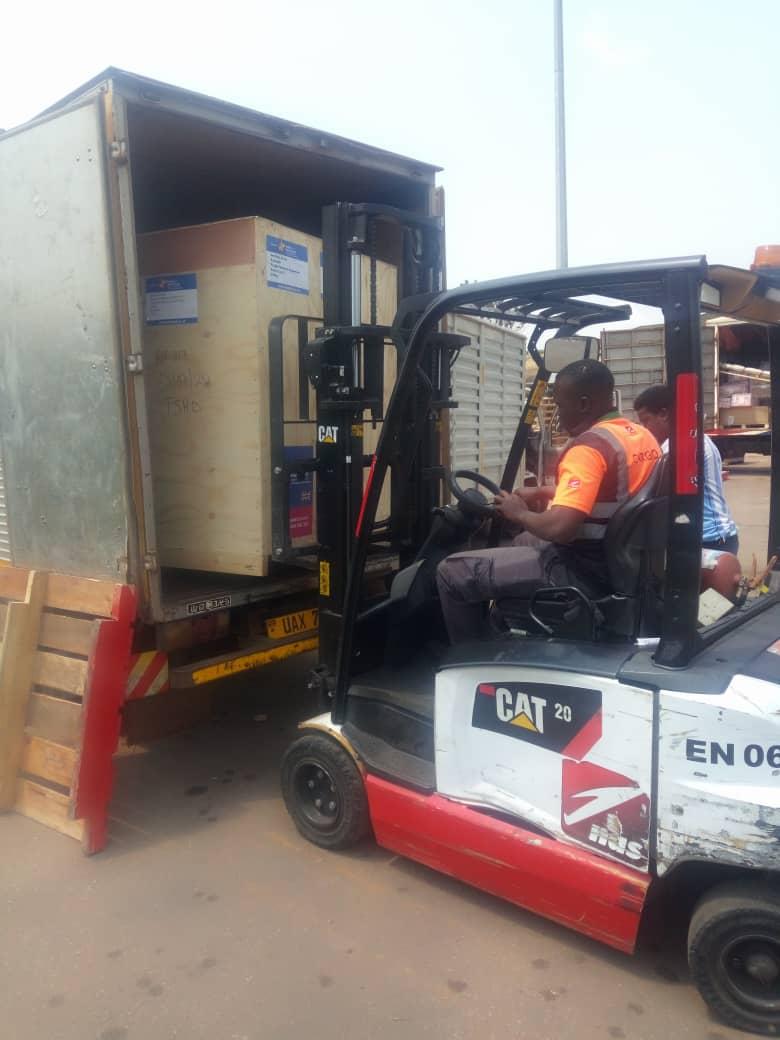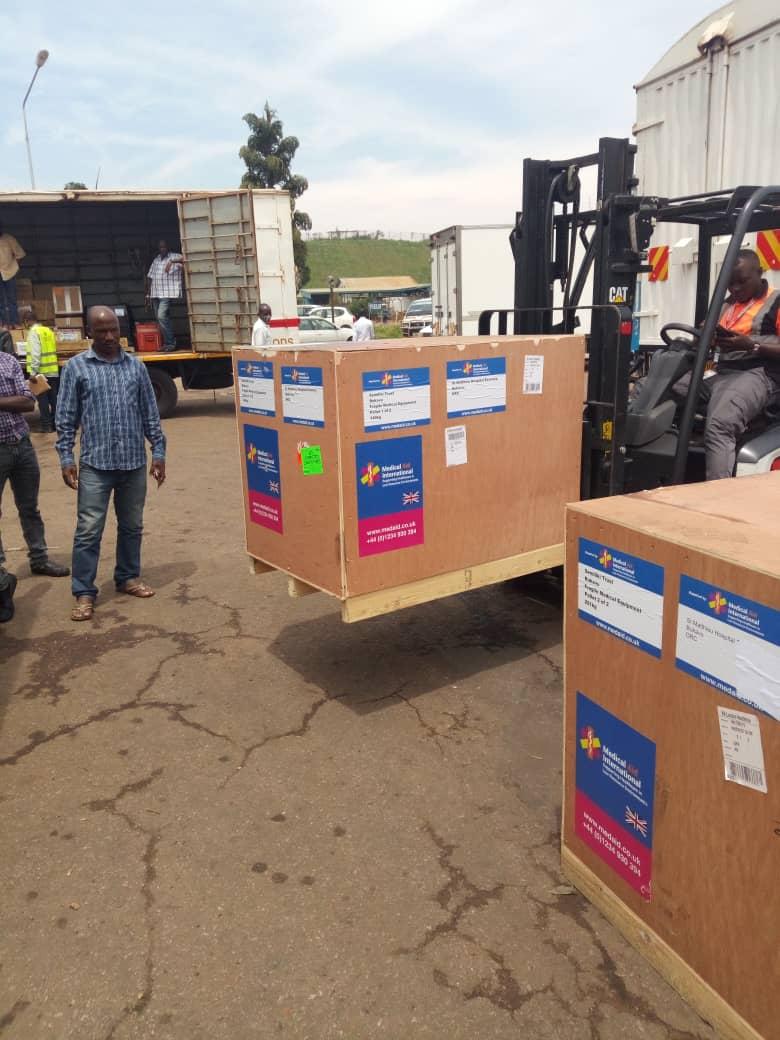 After the lengthy negotiations at border crossings with customs officials (and the inevitable duties paid), there was great celebration when the kit arrived.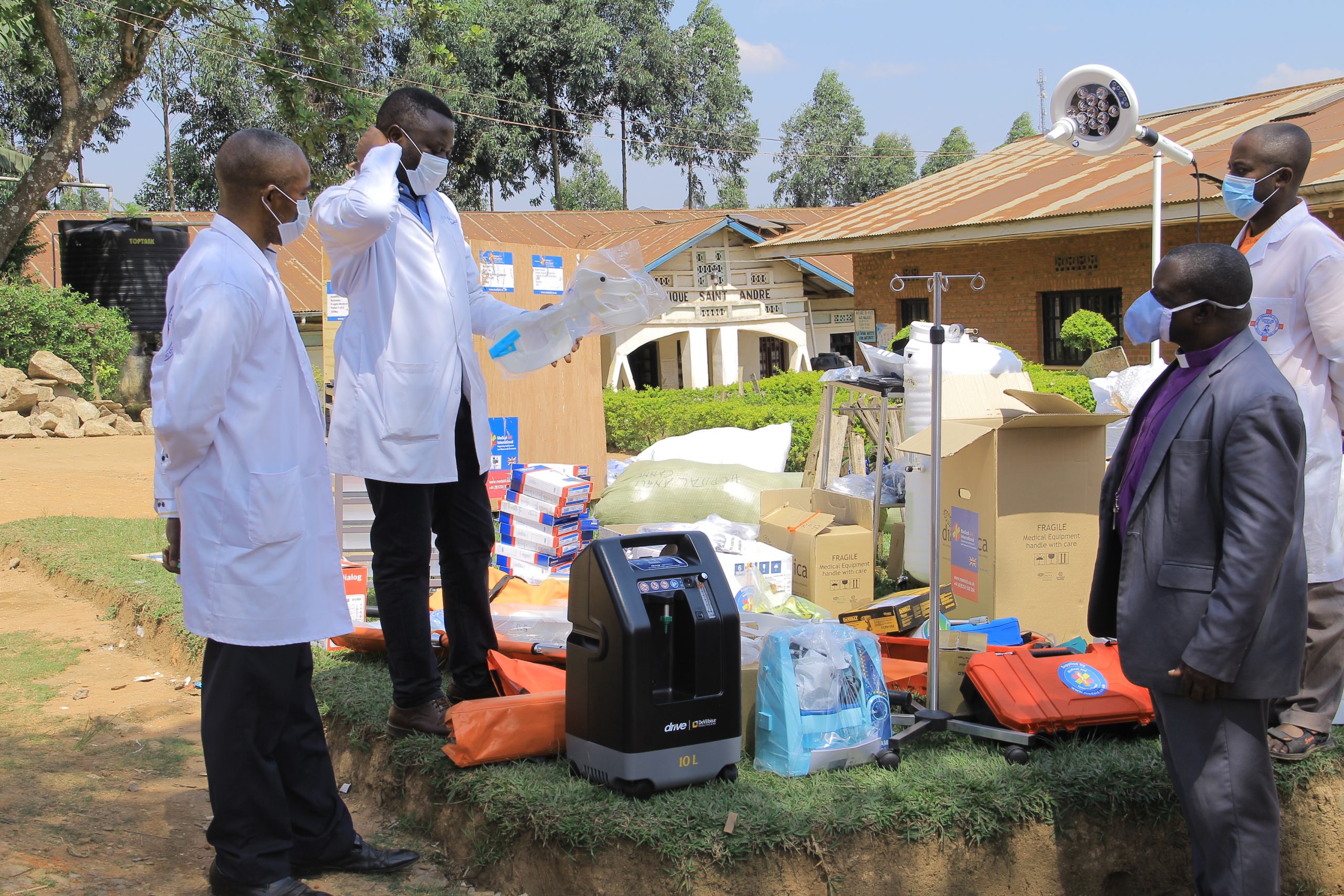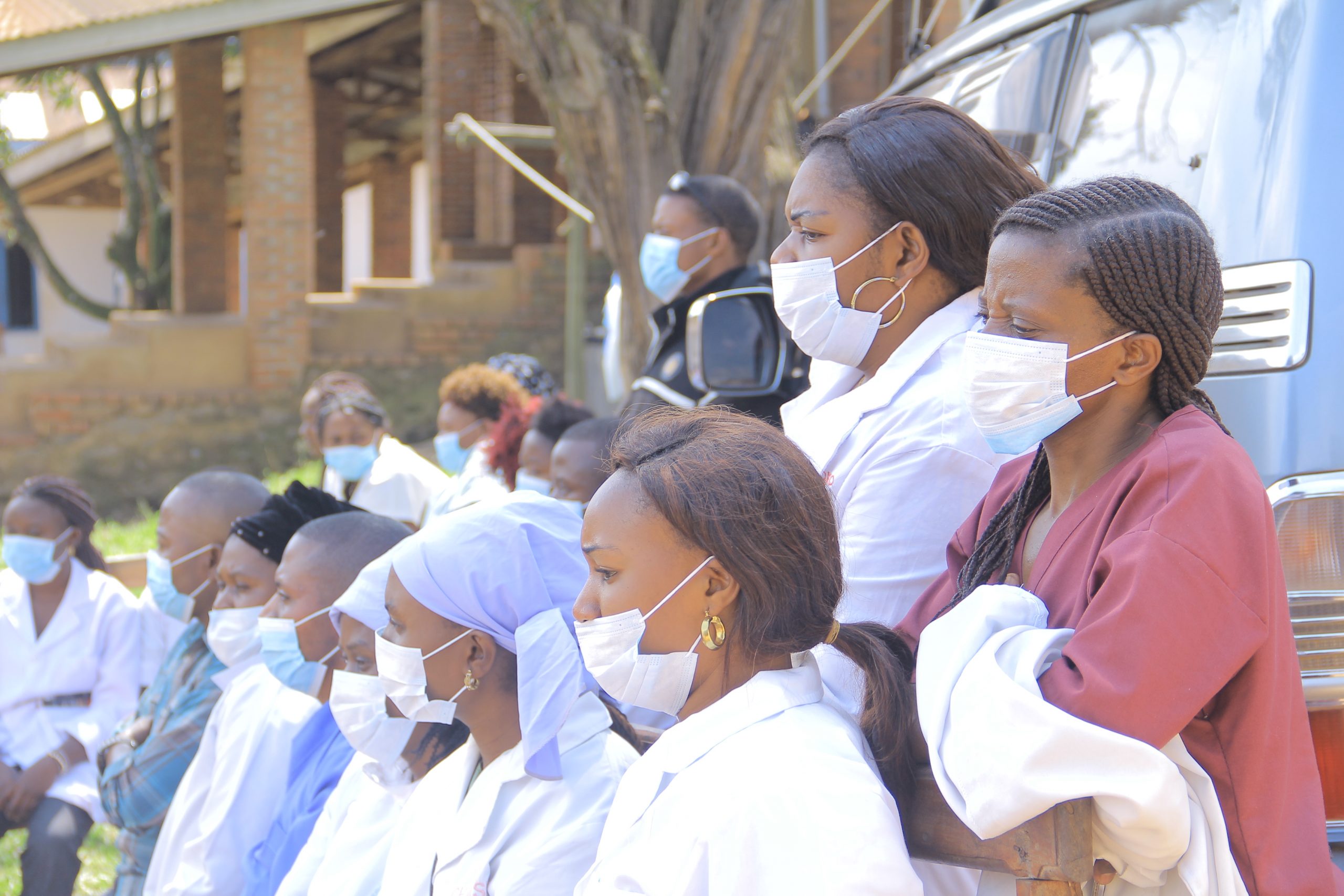 As well as the operating table to equip the second theatre in St Matthieu, we sent drills and fixation kits to enable both surgical teams to provide orthopaedic operations for all the victims of road accidents and violent attacks that are so common in DRC. In addition we sent an oxygen concentrator with a large oxygen storage cylinder. These are vital for anaesthesia, but will also be used to save lives from anaemia and pneumonia and other infectious diseases like Covid-19.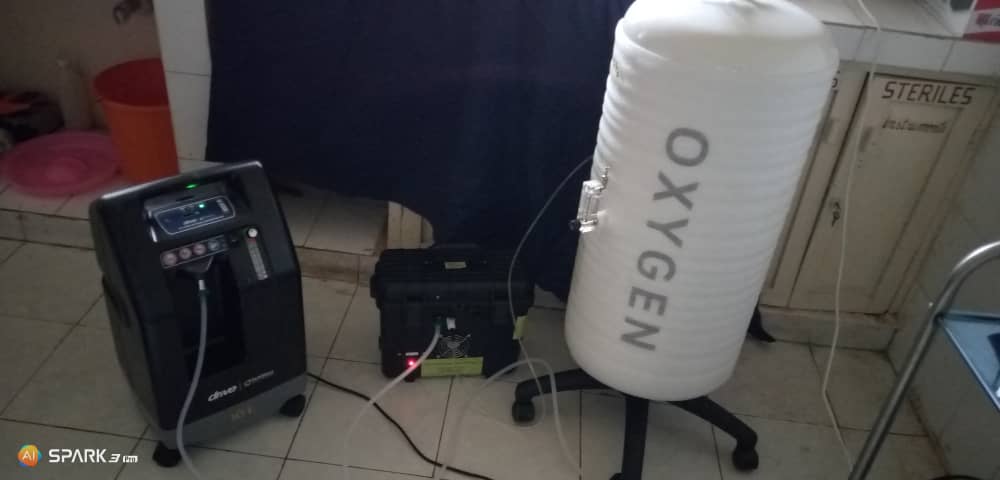 Thank you to all of you who contributed so generously to our 10th Anniversary celebrations. We raised £20,000 for this project. In addition we received two very generous matched grants from ECHO and Greyfriars Church, Reading making a grand total raised of £51,500. The total cost of the project was £51,370.54 (£38,935 for the purchase, £11,195.54 for freight and £1,240 for customs duties).
Here is the list of orthopaedic and general surgical kit we purchased for the two hospitals. In addition, Medaid added in large quantity of fabulous supplies at no additional cost.
St Matthieu Hospital, Bukavu        Masiki Hospital, Butembo         
Eschmann MR Op table 1                          Oxygen Concentrator     1
Oxygen Reservoir 500lts              1
Orthopaedic drill (Arbutus) 1                    Orthopaedic drill (Arbutus)         1
External fixation kit         1                          External fixation kit         1
EPS suction        1                                         EPS Suction                      1
Diathermy          1                                         Diathermy          1
Examination  light           1                          Examination  light           1
VS900 rolling stand        1                          VS900 on Gratnels trolley            1
Biomedical engineering tool kit  1            Biomedical engineering tool kit  1