Story — Orphanage Evacuates!
February 13, 2015 — Bishop Isesomo, Butembo, CMS Ireland, Compassion Orphanage, Jenny Smyth, Mbambu Kiharami Dorcas, Peter Pearson, Rev Emmanuel, st Andrews Wivi, Story
In November, a hole, or rather chasm, following a small river opened up about 15m from the walls of the orphanage! In December, everyone was evacuated!
Peter Pearson and Jenny Smyth from CMS Ireland visited in November 2014 and took photos of what was going on. Peter continues…
"A key focus for our visit was the Compassion orphanage in Butembo, supported by Semiliki Trust for a number of years now. There are currently 45 orphans living in the home of Mbambu and her husband Rev Emmanuel and we were treated to a wonderfully enthusiastic burst of singing and dancing when we called in to see them.
The bad news is that a bizarre chasm is opening up, following the line of a small stream up the valley, and now only a few metres from the edge of the buildings. Maybe a geologist can explain what is causing it – it is not erosion from heavy rainfall but a kind of continuous sinkhole apparently several hundred metres long.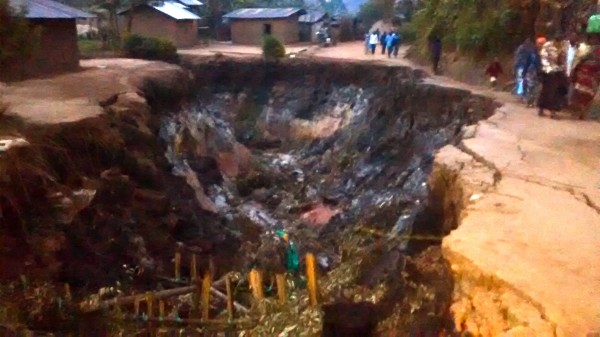 A photo of the chasm taken on a mobile phone.
We visited twice two days apart, and the chasm had moved a couple of metres closer even in that time – and we heard on 5 December that the orphans have been evacuated to a clinic building. It must have been very worrying for everyone and a huge effort to move across all the beds and furniture and adapt this building to the needs of 45 children and 6 adult carers.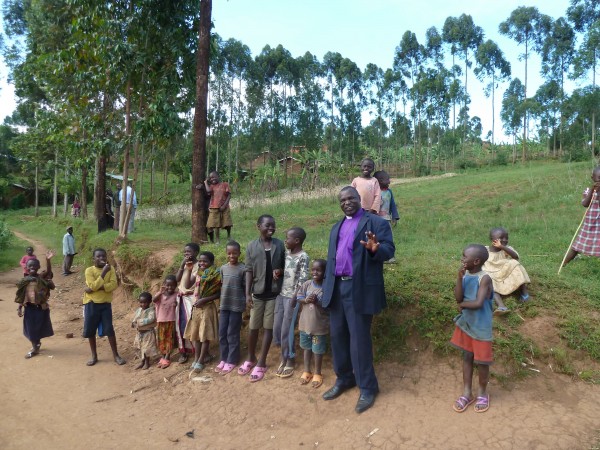 Bishoop Isesomo with the new plot.
The good news is that there has been some fantastic fundraising by two churches in Northern Ireland – which had paid for 4 out of 5 adjacent plots of land in a good position near the orphan's school in Butembo and a further sum of money has been targeted for building a new orphanage. I was able to pass on funds for the final parcel of land from funds raised by St Andrews church in Wiveliscombe, Somerset.
So a brighter future awaits – but there is a huge task of work to do in planning and building the new orphanage. There are some exciting ideas of creating a new structure based on smaller, 'family' units but this idea is new to the area and there is a real shortage of the trained social and childcare workers that we have in the West. Semiliki Trust will be working closely with CMS Ireland and others for many years to come in partnership with our Congolese brothers and sisters.
We will keep you posted!"
Two Peters
If you're a friend of ours on Facebook, you might remember that just over a year ago, a new baby was was introduced to the orphanage. During Peter's visit, he was able to meet up with the growing boy who shares his name!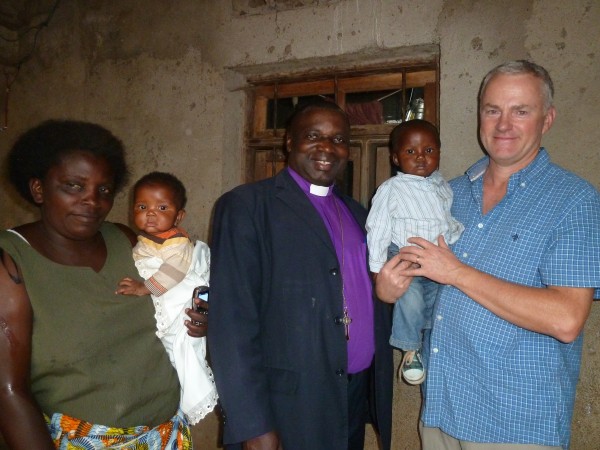 Baby Peter Isesomo between Bishop Isesomo and Peter Pearson.
One Last Thing
If you're going to be in London on 9th March – or you fancy a trip! – don't forget about the charity screening of the film Seeds of Hope that we featured on our blog a couple of weeks ago.