Story — Welcoming Ande to Oxford
March 20, 2016 — Ande, Aru, Aru Nursing College, Kate Goodacre, St Andrew's Oxford, St Matthew's Church, Story, Tim Goodacre
In early March we were delighted to welcome Titre Ande to Oxford in the home of our trustee and surgical adviser Kate and Tim Goodacre, and the next day in St Matthews and St Andrews churches in Oxford. Ande is the head of the Anglican church in Aru region where Semiliki supports the coordination of 10 health centres and hospitals and a nursing college.
The church in Congo has a very holistic mission of sharing good news and of helping to provide social services such as health and education. Ande's education team look after 88 primary and secondary schools. All of these are recognised by the government. The church coordinated health centres are official health structures of the government health zone system, even though the centres have to be totally self supporting.
In November last year, Ande led celebrations for the 10th anniversary of the Aru region. It was quite a blast: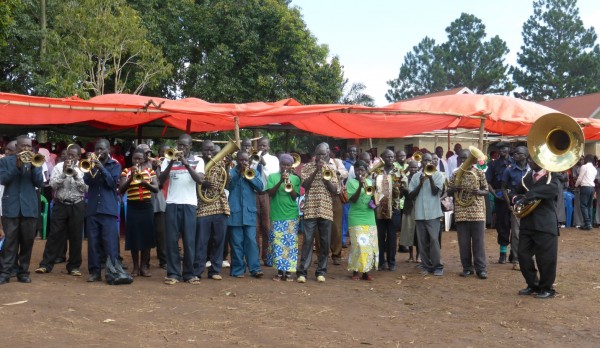 During his recent visit to Oxford, Ande explained how the church keeps growing by not just training pastors, but also more than 100 church members. The health needs are huge in the area, and Ande explained simply that "if we don't run health centres, who will….?" But to run health centres, nurses are needed and that is why when local government medical authorities asked Ande if they could set up a nursing university, he said yes.
Another concern Ande has is poverty, and the need to teach people to have a vision for their lives. This vision, he believes, comes from their faith and from showing them how they can study and use the resources they have around them.
He also believes in building up the Congolese State from below, that's why his team have trained local government chiefs in good governance, peace and justice. The local authorities are very happy with this support and partnership they have with Ande and his team of pastors, nurses and teachers. When asked what his biggest hope is for Congo, Ande replied, "the people".