Story — Our dear friend Désiré
August 13, 2020 — Bishop Désiré, Cambourne Church, Claudaline, Goma, st Andrews Wivi, Story, Tailoring Project, Tumaini Orphan School
We were devastated to hear of the sudden death of our dear friend Désiré in Goma after a feverish illness of 2 weeks.  Désiré led the Anglican church as Bishop in Goma and was, with his wife Claudaline, a principal partner of Semiliki.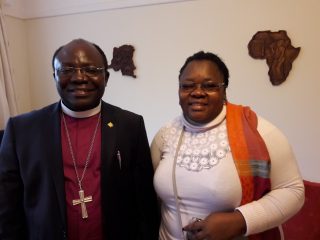 For the last 10 years we, and in partnership with Cambourne Church and St Andrew's Wiveliscombe, have supported projects that Claudaline and Désiré have run for the most vulnerable and poor people. These have been both in ever-expanding Goma town and around the northern parts of Lake Kivu.
Désiré was a most inspiring person, and with Claudaline loved by thousands of people whose lives they have touched through their compassion and ministry of sharing God's love. We know that Claudaline and the team in Goma will ensure that the great work will continue, including for women victims of violence, orphan children and poor agricultural communities.
Watch our tribute to this wonderful man of God.