Story — Recovering from conflict
May 22, 2015 — Boga, Bukiringi Health Centre, Bwakadi Health Centre, Kule Mulyanzusu, Maga Heath Centre, Purchasing supplies, Story
The health centres in Boga Medical Coordination were particularly badly hit by a lack of security in the past years. The recent arrest of a militia leader and the partial disbanding of his rebels has brought a partial peace to the area and slightly more security on the roads.
The future is very uncertain though and many communities have had to flee during repeated attacks or pillaging by militia. The 15 health centres (including Maga in the picture above) are gradually setting up thanks to the courage of the committed nurses who have faced immense dangers.
The centres are mostly very dilapidated, some still just mud and stick buildings. Mattresses have been pillaged 5 times over the years in Bukiringi health centre (see last week's blog) during separate attacks by armed men.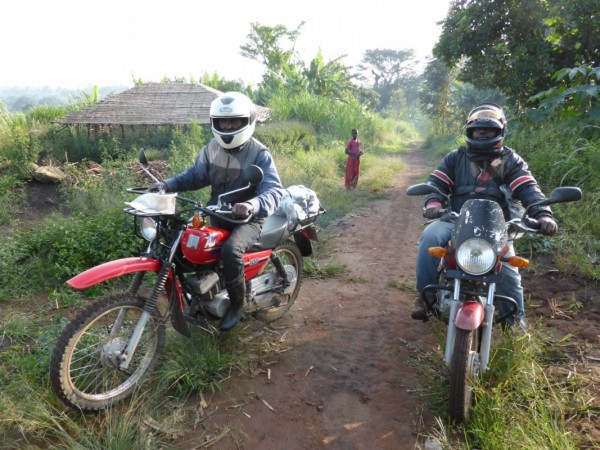 Nurse coordinator Kule (on the right in the photo) gets around on the mud roads by motorbike and has been able to visit most of the centres several times in the past months. Money from Semiliki has helped in diverse ways:
15 mattresses bought for Maga health centre
$500 spent on medicines for Bwakadi health centre, partly to support the marginalised Batwa population
$3000 from an individual enabled many of the health centres to have small supplies of medicines and laboratory tests
The committees of these health centres and nurse coordinator Kule have both written to thank Semiliki supporters for their generosity, which has enabled many poor people to benefit from better health care.