Story — The sky's the limit!
February 27, 2015 — Compassion Orphanage, Fundraising, Rachel Pearson, Sii Cockerill, Story
In 2012, Rachel proved that the sky's the limit when it comes to fundraising ideas.
To celebrate her 16th birthday, Rachel jumped out of a plane at 15,000ft and fell the first 10,000ft in just 1 minute reaching a top speed of 122mph! This is her story…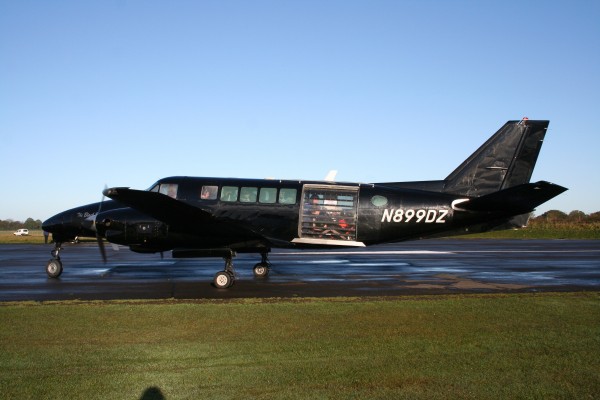 Preparing to take off…
"Ever since I can remember I've wanted to go skydiving. So when my 16th birthday was approaching and I realised I was finally going to be old enough to go, I was very excited! I'd also heard a lot about the orphanage that Semiliki Trust supports from my uncle; so I decided this was a great opportunity to help those in need whilst fulfilling a dream of my own.
I thought it would be more fun to share the experience with someone else; so I started asking around some of my friends to see who would come with me. To my great surprise they were all very reluctant and didn't see this awesome excitement the same way I did, in fact none of them were up for coming too! After being very confused by everyone thinking it was a crazy idea, I rang my rather older cousin, Sii, who was up for a laugh and agreed to come too.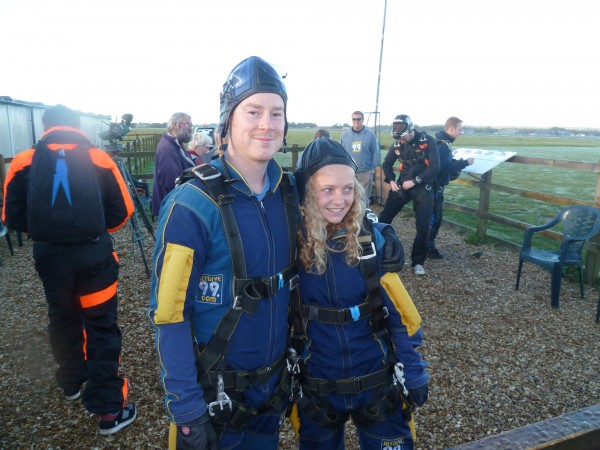 All ready and raring to go!
I started asking around to see if anyone would sponsor me and managed to raise £400 for the Semiliki trust.
It took two visits to the airfield before managing to do the skydive, as on the first attempt the plane had broken before we managed to get in it, let alone jump out again. We had to rebook for about a month later.
Attempt two was a lot more successful. On arrival to the airfield with my family and a few friends who had come to watch, the sun was shining, the sky was clear and we were feeling more hopeful.
We had a briefing about what to do when in the plane, jumping out and landing again before meeting our instructors and putting on the outfit we were meant to wear.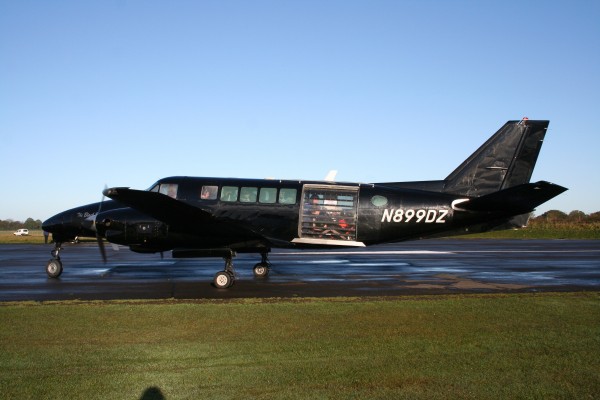 Preparing to take off…
I guess once on the plane we slightly resembled sardines in a tin, in that we were completely squished. I sat straddling a bench completely sandwiched between the person in front and my instructor behind. Taking off in the tiny plane felt like being in a movie, seeing the ground get smaller and smaller until it resembled a plastic model. It didn't take long to reach altitude, the door was opened and 2 by 2 people started getting out.
I can't describe the feeling. Kneeling in the doorway of a plane, looking down onto tiny fields. There's a guy you've just met, strapped to your back, claiming he won't let you crash because he has a good dinner planned for that night. The guy shuffles forwards so you're just hanging there, 15000ft in the air, until that moment when you fall. Turning, somersaulting, there's no plane there anymore, just the rush of the wind. Time to admire the world from a slightly different perspective. The thought of 'I just fell out of a plane' was circling my mind. Although it wasn't scary as you might expect. See, the ground is still really far away, so you're falling but without the fear of being hurt. Once completely in my own little world of believing I can fly, the guy behind me brought me back to reality by pulling the parachute.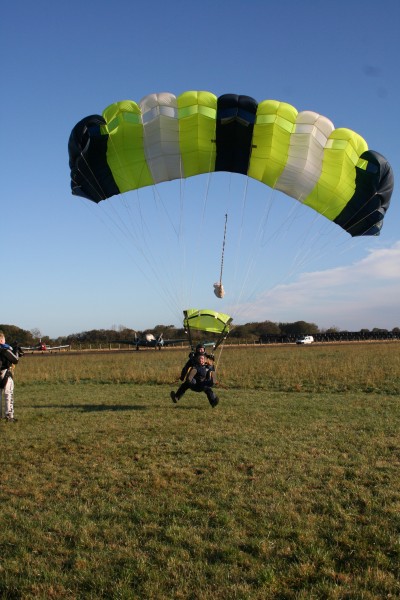 Coming in to land!
A sudden jolt from the harness calms the noise from the wind and makes my shoe slide halfway off my foot. The guy let me steer the parachute; so we circled and zigzagged the way down, the floor approaching more slowly now. All too soon we slid into the field and had made the way safely down to earth.
It was a fantastic experience I'd recommend to pretty much anyone and a fun way to support the Semiliki Trust"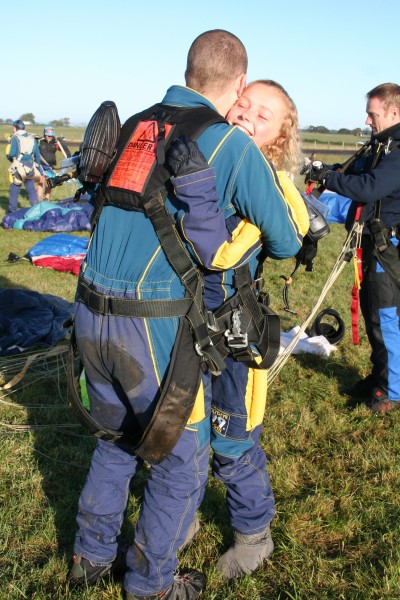 Adrenaline-fuelled and wanting to go again.
If you have raised money for Semiliki Trust and you'd like to share your story, please get in touch and help us encourage more amazing fundraising ideas.