Story — Visit in Goma
October 31, 2014 — Archbishop Justin Welby, Bishop Désiré, Claudaline, Goma, Story
Semiliki supports the work of Désiré and Claudaline as they help restore the dignity and well being of women victims of violence, and provide an education for orphan children.
Earlier this year Justin Welby, the head of the worldwide Anglican Church, visited Goma. Désiré wrote about the visit of Justin Welby to Goma:
"His short stay in Goma was very busy for him and for his wife Caroline. They have to do several activities from morning to evening talking each day with different groups at the guest house. Some of the activities include visiting the displaced camp, the raped women association, widows, orphans, praying to people, preaching and blessing the people. He also had to meet with some different groups such as interfaith association and religious leaders, youth, women and local authorities like the North Kivu Governor.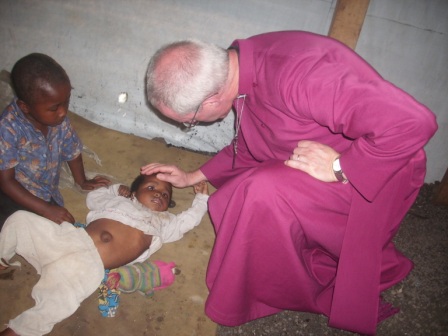 His last and bright evening address at St Paul's church in Goma was about forgiveness, justice and reconciliation. Hundreds of believers from Roman Catholic, Anglican and other local congregations and non-governmental organisations were sitting and listening carefully. People have interpreted some signs of the time of the arrival of the Archbishop of Canterbury in Goma. Since he entered the church, a heavy rain shower followed with thunder booming in the whole town of Goma and in its surroundings. In fact, in the African culture, such a kind of phenomenon is viewed as a symbol of blessings. We thank God as they left and arrived safely back home.
Desire."