Story — The joy of reading
June 10, 2019 — Ande, Aru, Bishop Désiré, Bukavu, Butembo, Congo Church Association, Goma, Story
Living in the UK with a mini library in every home, it is easy to underestimate what an impact one book can make. With money raised specifically for this project by the generous members of St Andrew's, Wivesliscombe, Semiliki has been able to respond to the request of church leaders in Congo and send 1,800 children's bibles across 7 regions. Our partner, Congo Church Association, collaborated with us on the same order and was able to send children's bibles to 5 other regions.
Each region distributed the bibles in different ways, but usually gave them to either Sunday School leaders, primary school teachers or women heads of households.  Boga diocese (above) gave them straight to the children.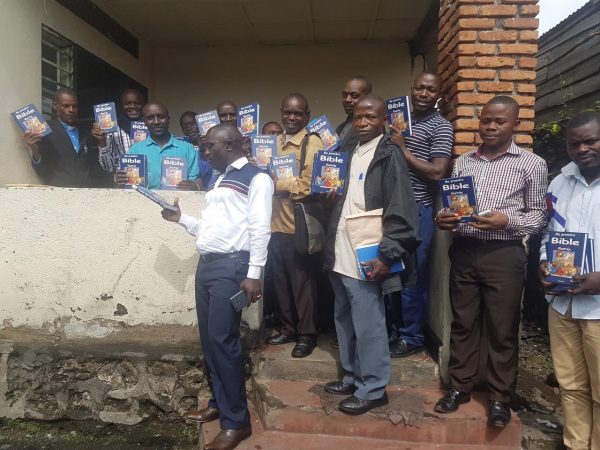 Some of the bibles were distributed to school directors for school chaplains to organise bible studies. This has helped 'our schools and families to understand the word of God'.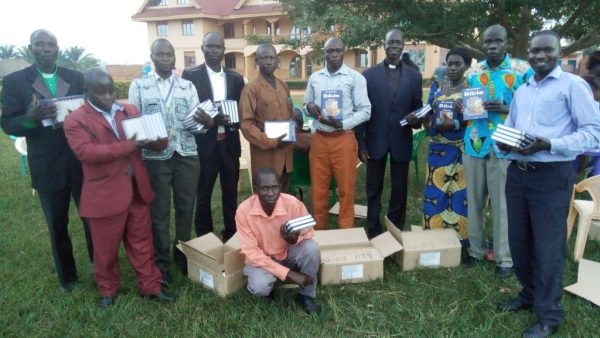 The gift of children's bibles fitted well with Aru's strategic plan. They had just planned to, in Bishop Ande's words, 'make families the strategic places for spiritual growth and train the mother to be the 'family's chaplain'. It is great for them to have Bibles for learning God's Word'. As chaplain, the mother would pray with the family, encourage every family member to read the bible out loud together. The bibles sent by Semiliki 'exactly served this purpose', and the diocese was 'profoundly grateful'. 100 bibles were given to women (one per family).